Gender Balance in Computing
Help us find the best ways to encourage young women to study Computer Science.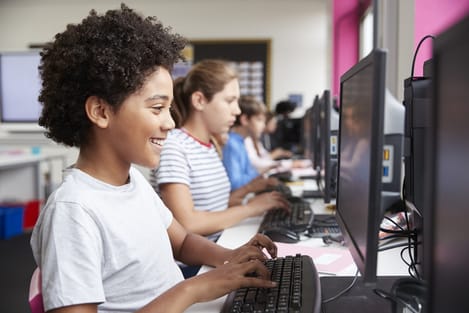 The programme at a glance
Six different research interventions
Run across four years
In over 1000 state schools in England
The Gender Balance in Computing (GBIC) research programme is an amazing opportunity to find out what works to encourage girls to develop an interest during their primary and secondary school years, and increase the number of young women who choose to study Computer Science at GCSE and A level.
GBIC is a collaboration between the Raspberry Pi Foundation; STEM Learning; BCS, The Chartered Institute for IT; the Behavioural Insights Team, Apps for Good and WISE.
Find out more in our programme FAQs.
Why this research is important
Sadly, many young women do not see computing-related subjects as an option for their future career. Research suggests that a variety of factors are likely to be responsible, including feeling like they don't belong in the subject or its community, a lack of sustained encouragement, and a lack of computing role models when they are learning about the subject.
We're working with schools to find ways to address this disparity.
More than 700 amazing schools have already begun working with us to explore the different approaches to meet this challenge, but we need more!
We'll provide free teaching and learning materials, as well as training where necessary. All we need you to do is to try the approaches we suggest and provide us with some information through surveys and perhaps a phone call or visit from us. We'd love your school to get involved. Why not join today?
Join this landmark programme
Are you a teacher or headteacher at a school who is interested in GBIC?
Register your interest
Recently as part of Careers Week we spoke to women working in tech about their experiences with computer science.
"For me, the most interesting thing is understanding behaviours - I enjoy and learn more when we go above and beyond current technology and think more about everyday habits and general consumer behaviour."

Swetha Sethu-Jones
Senior UX Researcher
Just Eat
"The thing I love is when you read stories about how Alexa has helped people. The leader of a charity for blind people said how much Alexa has helped him, because its users are now able to access RNIB-verified information via voice commands."

Beth Holmes
Knowledge Engineer
Amazon
"I think computer science is super interesting and can help tackle all sorts of real-world problems. There are still so many open research questions and computer science is definitely a valuable skill in academia!"

Risa Ueno
PhD student
British Antarctic Survey